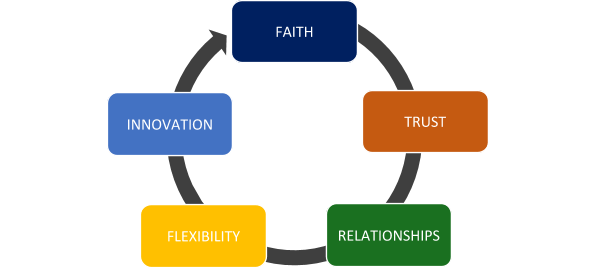 Faith leads to trust. Trust builds strong relationships. Strong relationships support flexibility. Flexibility allows for innovation.
Let's Get Started!
get immediate help with info & pricing
Our Mission Statement
"Guided by faith, we are called to provide compassionate care and peace of mind to all who desire to live at home."
Relationships
At Alternative Senior Care, we understand that effective relationships are built on mutual respect, open communication, and recognition of the diverse strengths of others.  We value effective relationships with our team members, our community, our clients and their families.
Faith
At Alternative Senior Care we utilize our faith when facing decisions that affect our clients and team members. The ethical and moral foundation of our company is founded in faith in a higher power.
Trust
At Alternative Senior Care, we understand that we are entrusted with the care of your most loved family members.  With honesty in our communications, transparency in our procedures and integrity in our actions, we strive to earn that trust daily.
Flexibility
At Alternative Senior Care, we understand the need to remain flexible in our thinking and approach to care. Our clients and team members have diverse lifestyles that must be considered when managing schedules and services.
Innovation
We are an innovative company! We are creative and resourceful in designing services to meet the needs of our clients, staff and community.