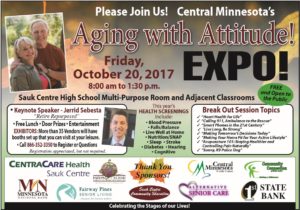 Please join us for Aging With Attitude coming Friday October 20th from 8:00 AM – 1:30 PM. The event is designed to educate, inform and entertain residents of central MN. The event is free and open to the public.
Mike and I have been involved in the planning process for many years. It started as the Sauk Centre Senior Wellness Fair. In and effort to attract a younger demographic we changed the name, venue, schedule and added break out sessions. In recent years we've attracted a broad range of attendees with topics that are relevant to many… not just the elderly.
Save the date, call to reserve your spot and come enjoy the day!
Latest posts by Cindy Karasch, COTA, CSA, President, CEO
(see all)