Alternative Senior Care Hosted It's Annual Staff Training in April. It is a time to learn and grow together and this year it was a bit tricky to have all the staff together due to social distancing. Some of the staff opted for the online version and some gathered at Lakes Community Church to rotate through various learning stations. Because of the event being an open house and held for 6 hours of the day, it gave staff time to come in small groups and limited the numbers together at one time.
"I enjoyed being able to talk to each person one to one in the smaller group settings." Stated Cindy Karasch Owner and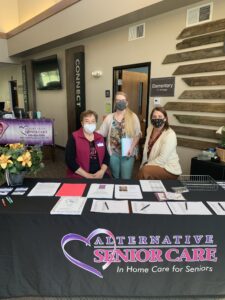 CEO of Alternative Senior Care.
"One of the most important aspects of caregiving is continuously finding new ways to better our understanding of our clients and how to best support them. This training is important", Lainie Berg, Operations Manager stated, "I am so glad we have a chance to learn and grow together at training, because working remotely can be challenging on morale. Annual training is one way we can show appreciation and connection with our staff. "
Some of the topics covered this year was focused on PPE, Covid-19 precautions and updates, policy and procedures, technology, and professional boundaries. Terry Anderson from Aflac was onsite to help staff get on boarded for benefits.
Alternative Senior Care has served Central Minnesota Seniors for 15 plus years. Going up and above what is required for training has been beneficial in equipping their staff and one aspect that makes Alternative Senior Care a great place to work.
Latest posts by Cindy Karasch, COTA, CSA, President, CEO
(see all)