A Breakthrough Medication Reminder and Dispensing System
Right Med • Right Dose • Right Time • Right Choice
Alternative Senior Care's MedSmart System is a safe, convenient and automated solution that organizes, reminds and dispenses medications so they are taken properly and on-time. Available in both stand-alone and monitored versions, MedSmart improves medication adherence and reduces the risk of missed and dosing errors to support independent living.
Benefits
A safe, convenient way to manage medications
Encourages better self-care and medication administration
Reduces risk of hospital admissions associated with dosing errors
Promotes adherence to treatment regimes
Powerful Features
Easy Fill Med-Trays
MedSmart comes with two (2) removable Med-Trays that can be filled by a caregiver or healthcare provider. Trays can be stored either on or off-site to expedite refill.
Back-Up Battery
MedSmart operates on AC power when in the docking base and battery power when in transit or in the event of a power outage.
Audible and Visual Reminder Alarms
MedSmart can be programmed from 1 to 6 times per day to provide audible and visual medication reminder alarms.
Monitoring
MedSmart transmits device and compliance information using a toll-free number to the data center. Authorized users can access individual and group information to monitor compliance and operating status.
Alerts and notifications can be sent via email, text or voice to alert caregivers and providers of missed doses, refill requests and device diagnostics.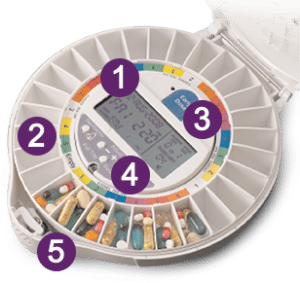 Under the monitored version, device and compliance information is transmitted to a secure data center which allows caregivers and healthcare providers an ability to track compliance, proactively address dosing errors, ensure equipment functionality and predict refill requirements.
Large Digital Display
29 Cell Trays with Loading Template
Early Dose Button
1 to 6 Med Alarms
Tamper-Proof Lock
Let's Get Started!
get immediate help with info & pricing